BALANCED announced as Technology Inventor Award Finalist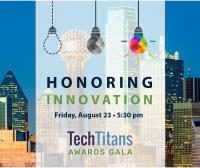 Tech Titans, the largest technology trade association in Texas, has announced its 2019 finalists for the Tech Titans Awards and BALANCED Media | Technology's CTO, Corey Clark, was announced as a finalist for the Technology Inventor Award. The winners in each category will be announced at the Tech Titans Awards Gala to be held on Friday, Aug. 23.
Technology Inventor Award

The Technology Inventors Award recognizes the pioneering accomplishments of a person, team or group responsible for the creation of breakthrough ideas, processes or products which have advanced the discipline(s) of the arts, education, electronics, energy, engineering, environment, medicine, and/or science.
About Tech Titans
Representing a quarter million employees through its 300 member companies, Tech Titans includes a diverse group of technology leaders from start-ups to Fortune 500 companies who collaborate to help innovation thrive in the region. The Tech Titans Awards recognize the elite in North Texas technology – individuals currently transforming the high-tech industry and giving companies competitive edges as well as companies leading the way in innovation and technical applications. The Tech Titans Awards showcase the innovators, adopters and executors impacting the technology industry for the greater good.