BALANCED partners with Complexity Gaming for major esports event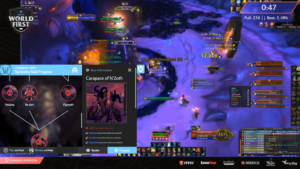 On January 28, World of Warcraft (WoW) guilds from around the world began competing in a premiere esports event known as Race to World First, a bid to become the first team to complete the final raid installment of the current expansion for that game.
BALANCED partnered with Complexity Gaming, the Jerry Jones co-owned esports gaming team, to create an interactive experience (known as an extension) that delivered up to date progress and player updates right inside Complexity's Twitch stream. This extension also incorporated a HEWMEN™-enabled game, The Omega Cluster, which allowed esports event viewers to interact with a data science problem related to SMU cancer treatment research. The extension also connected the viewing audience with an easy way to respond to Complexity's donation drive benefitting Extra Life, the gaming-centric fundraising arm of Children's Miracle Network Hospitals and the extension helped Complexity to raise over $10,ooo for Extra Life during the event.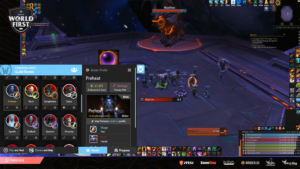 Complexity-Limit was ultimately able to take the World First title, breaking the 10 year drought for North American teams. The Complexity-Limit team took 10 days to progress through the entire raid, needing 274 attempts to defeat the final boss. The most popular Complexity stream was watched for over 2.4 million combined hours and BALANCED was there to keep those viewers informed and engaged. BALANCED's extension received 6.7 million views and nearly 13 thousand rounds of Omega Race were played.
Background
World of Warcraft is a massively multiplayer online role-playing game (MMORPG) introduced by Activision Blizzard in 2004.  WoW has been played by over 100 million people in 244 countries and territories.
Complexity-Limit is the world's top ranked World of Warcraft guild and a division of Complexity Gaming, one of North America's longest standing and most successful esports organizations. Owned by Jerry Jones of the Dallas Cowboys and investor John Goff, Complexity's esports teams have won more than 140 championships in nearly 30 game titles over its 15+ year history.