BALANCED CEO Interviewed for Innovation Calling Podcast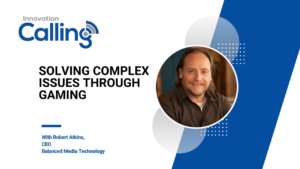 BALANCED CEO Robert M. Atkins was recently interviewed for the Innovation Calling podcast series in an episode named Solving Complex Issues Through Gaming.
The team at Balanced Media wanted more than just another gaming company, though. They wanted to drive real change, and that's when their company was born. By connecting communities of developers, researchers, and foundations, Balanced Media Technology, allows them to create tools, and gathers data to help solve extremely complex problems (think cancer research).
You can read the podcast overview and program rundown as well as listen to the podcast on the Innovation Calling website:
Innovation Calling Podcast – Solving Complex Issues Through Gaming
You can listen to the podcast below: