BALANCED to be featured in Panel Discussion at this year's PAX West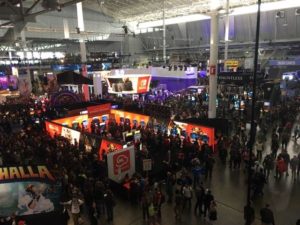 Several BALANCED Media | Technology founders will be participating in an expert panel discussion at this year's PAX West in Seattle Washington. The panel, titled "Saving the World One Game at a Time", features distinguished gaming world luminaries and advocates for social good through gaming, including Kate Edwards [CEO, Geogrify & former IDGA Executive Director], Travis Eriksen [Executive Director, Child's Play], Katie Stone Perez [Director of Mixer Interactive / Developer Success, Microsoft], Paul Bettner [Founder / CEO, Playful Corp]. BALANCED will be represented by CEO, Robert M. Atkins and CTO Dr. Corey Clark, PhD.
"As gaming becomes increasingly social and community-driven—a major component to the popularity of streaming—the desire to connect with other fans and online friends is crossing into the real world." – Seattle Magazine
The theme of the panel is how gaming can, and should, be more than just entertainment. The industry leaders in this panel will discuss the ways innovative technologies, games-related foundations, and gaming experiences are coming together to empower communities of game players to use their entertainment hours for real purpose.
BALANCED is excited for this opportunity to spread the word about all the incredible breakthroughs our team is making in the areas of problem solving through gaming.
If you will be at PAX West, please consider attending this panel event:
Sun 09/02 3:00 pm – 4:00 pm
Sandworm Theatre
Panel seating is on a first come, first served basis.
More about PAX:
PAX is a series of gaming conventions held in Seattle, Boston, Melbourne, Philadelphia, and San Antonio. Founded by Jerry Holkins and Mike Krahulik, authors of the popular web comic Penny Arcade, each PAX is a show dedicated to supporting and celebrating video and tabletop gaming.

Since PAX's inception, millions of attendees have enjoyed the expo floor halls filled with booths from major game publishers and independent developers, panels from video game industry insiders, game culture-inspired concerts, LAN parties, tabletop gaming, competitions and much more.