START CHANGING THE WORLD TODAY!
With our revolutionary HEWMEN platform, now live, gamers from all over the world can help researchers discover cures for drug-resistant cancers and macular degeneration while playing games!
Start helping researchers RIGHT NOW for free by playing our games Wiley Wizard and Eye in the Sky: Defender through our HEWMEN platform!
Be a part of the solution by downloading the HEWMEN platform here: https://www.balancedmediatechnology.com/projects/hewmen/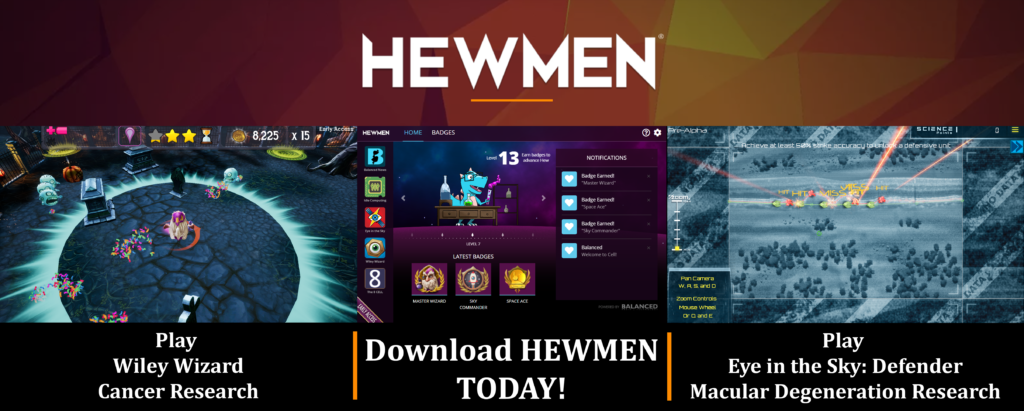 Then witness the revolution during our Live Stream LAUNCH EVENT!
Date:                     December 1 – 2, 2018
Time:                     10:00 am – 10:00 pm Both Days
Live Stream:       https://www.twitch.tv/smuguildhall
Participate in the launch event by:
Playing our games for at least 20 minutes during the event through the HEWMEN app – Especially our newest game, Eye in the Sky: Defender, which helps the Retina Foundation combat macular degeneration.
Earn badges for gameplay and HEWMEN research accomplishments to evolve your HEWMEN Avatar!
Share the link to download the HEWMEN app and tell others about the event on your Social Media platforms!
Watch the live stream of the launch and donate to the Extra Life Charity event at https://www.twitch.tv/smuguildhall
With your help we will change the world, and it all starts here!