BALANCED CTO awarded part of $1.5 million Grant to study education using Minecraft
BALANCED CTO, deputy Director of Research at SMU Guildhall and an assistant professor of Computer Science at Southern Methodist University's Lyle School of Engineering, is one of three grant recipients awarded $1.5 million by the National Science Foundation to research using the mega-hit game Minecraft in STEM-related learning experiences. The program is funded through 2022.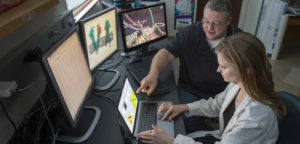 The funded research will include game design, human computer interaction, machine learning, curriculum design, and education assessment. The results will be conducted by integrating STEM+C (computing) curriculum directly into Minecraft.  The researchers hope to integrate this gameplay into educational curriculum, including: Common Core Standards in Mathematics (CCSS-M), Next Generation Science Standards (NGSS-2013), Computer Science Teachers Association (CSTA-2017), and California Computer Science Content Standards (CACS-CS 2019).
"Video games provide a technique to engage the next generation of students in a fun and intuitive manner. Games are developed around fundamental activities, or gameplay atoms, which reflect the experiential learning process through a trial and error in-game conveyance/feedback loop."
This research follows on the groundbreaking research conducted by Clark and BALANCED Media | Technology where we demonstrated Minecraft streamers interacting in-game with data from a chemotherapeutic drug discovery research problem through a special game modification, all the while their viewers could influence the gameplay interactively.
Read the full article on Dallas Innovates