Race to World First Twitch Extension is Released
Overview

The BALANCED extension for Complexity-Limit's  Twitch livestream broadcast of their Race to World First title defense provides viewers with a unique and innovative way to keep up to date with Limit's raid progress while also having a lot of fun by participating in your own epic quest to gain leaderboard supremacy.
Features
Event-Specific
A command center where viewers can find up to the minute information on raid progress, including a Progress Map showing the status of all the bosses and the boss currently being attempted and view stats like number of attempts, best attempt, and time of kill. You can also check out play-by-play descriptions of Limit's advancement and see highlight clips of kills.
Leaderboard showing the place and progress of top guilds worldwide.
Player Roster – Get a lineup of Limit's player characters and their stats, builds, specs, and alignments with links to deeper dives on each at Wowhead.
View the lineup of caster talent that will be heading up the event broadcast, with links to interact with them on their Twitter feeds.
Raid alongside Limit
Additionally, the extension features several fun games you can play right inside the stream:
Whack-A-Gnoll is a hilarious battle against a devious Gnoll that's the ultimate troll. Choose your Whacking Weapon and start earning experience points to level it up to more powerful weapons. The better your weapon, the better your score. Compete with other viewers for Leaderboard supremacy.
Make sure you're paying attention to the custom background for keys that can unlock big bonuses! While playing Whack-A-Gnoll. what's actually happening under the hood is that viewers are helping prove out a hybrid artificial intelligence algorithm which has been used to fight medical disease. By playing BALANCED's specially created games, viewers are actually helping to train machine learning to identify and recognize objects visually, which can be used to recognize signs of cancer, eye disease, and many other types of health problems.
The detailed artwork commemorating Limit's raid supremacy was custom commissioned from a top illustrator and will be given away to viewers at the end of the event.
The extension also features Trivia Quest where you pit your knowledge of WoW and other videogames against other viewers, get on the point leaderboards, and gain experience points to level up your weapon.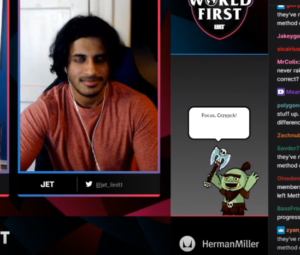 Increasing the Sponsorship Value Proposition
BALANCED's innovative Sponster™ promotion system creates a dynamic and engaging way to showcase channel sponsors, promote calls to action, and keep viewers entertained. This highly versatile and configurable system integrates directly into streamers' video feed and is connected to analytics to provide valuable metrics channel owners can use to attract and retain sponsors.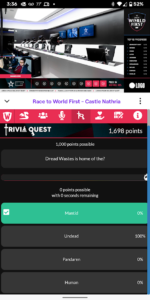 Go Mobile on the Twitch Mobile app
The extension also works on the mobile version of Twitch. Follow the action on your phone or mobile device, play trivia, earn XP, and manage your player profile on a second screen or on the go.
Whack-A-Gnoll is a desktop exclusive activity