BALANCED's updated esports Twitch extension launches for Race to World First
Overview

The BALANCED extension continues to be an important part of Complexity-Limit's Twitch livestream broadcast, as over 800,000 stream participants have engaged with the extension, tracking Complexity's raid progress over the multi-day event, seeing live stats and player rosters, getting information on bosses, and engaging with fun activities such as competitive trivia and games of Whack-A-Gnoll, which also creates training data for computer vision machine learning algorithms. Extension users also earn points for engaging inside Complexity's streams, which levels them up to achieve higher scores in the Whack-A-Gnoll game and a better chance at topping the community leaderboards. BALANCED's innovative Sponster™ promotion system has also garnered millions of views to showcase channel sponsors, promote calls to action, and keep viewers entertained.
Complexity-Limit, the reigning World of Warcraft Race to World First champions, launches their bid for a third consecutive Race to World First title on July 13th. GameSquare has also recently announced acquisition of Complexity to combine their winning track record in competitive esports with the Toronto-based company's sales and branding expertise to build a new global esports powerhouse. BALANCED partners with Complexity Gaming again this year to feature our esports interactive on Complexity-Limit's streams again as Complexity-Limit defends their title.
"Returning partners will also contribute to various aspects of Complexity-Limit's RWF broadcast and production… To make for an immersive and professional viewing experience, Texas-based Balanced Media Technology (BMT) will streamline asset creation with Raider.io from World of Warcraft's API to seamlessly inject real-time game stats, including boss kills, position rank, and instance class compilation, into the broadcast."
New Features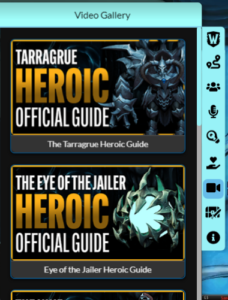 The extension now comes in a brand-new color scheme, along with the following new features:
An improved player roster that allows streamers to dynamically load in information of Limit's player characters linked to World of Warcraft's Armory that viewers can access
A video gallery for streamers to feature clips
The extension retains all the features of the past raid, including a command center to view stats and follow up on raid progress, a leaderboard showing the place and progress of top guilds worldwide, a lineup of caster talent that will be heading up the event broadcast with links to interact with them on their Twitter feeds, and activities to engage with alongside the stream. Learn more about BALANCED's first release of the extension here.
Go Mobile on the Twitch Mobile app
The extension also works on the mobile version of Twitch. Follow the action on your phone or mobile device, play trivia, earn XP, and manage your player profile on a second screen or on the go.
Whack-A-Gnoll is a desktop exclusive activity
For charity, Complexity-Limit and other guilds are supporting Rise Above the Disorder (RAD), a non-profit organization dedicated to removing the barriers of access and affordability for mental health care.
COMPLEXITY-LIMIT SETS SIGHTS ON THIRD CONSECUTIVE RACE TO WORLD FIRST TITLE